Po-Wen Lu, Doctor
Division of Gastroenterology, Department of Medicine, Taipei Medical University Shuang Ho hospital
Expertise: Endoscopic examination and treatment
Contents
In the past ten years, a new device over-the-scope clip system (OTSC) has had a high success rate of hemostasis and can close the fistula and perforation of the gastrointestinal tract. This hemostatic clip can be easily attached to the front end of the endoscope. It can be used to shoot the bleeding point and the lesion to be treated, which is very similar to the treatment of esophageal variceal ligation, and it is easy to use. It does not require other special Endoscopy training. However, OTSC has the disadvantage of being able to close wounds less than 2 cm. Therefore, our endoscopy team wanted to avoid directly closing the wound with a single instrument, refer to the previous large wound closing method, and develop a new generation of ways to close wounds.
Expected result
Solve the difficulties of organization crawling
Overcome the limit of wounds exceeding two centimeters
Fix the difficulty of blocking the vision of the endoscope on the hemostatic clip
Expected target (according to annual plan)
The first year: the first year: the production of prototypes and the confirmation of biocompatibility
The second-year: Perform small-scale human testing and publish papers
The third-year: commercialization and improvement of details
Benefits to industry
It can complete the last mile (wound closure) after endoscopic removal of polyps or tumors, further increase the scope of surgical applications of endoscopy and reduce the risk of pain and anesthesia for patients
Previously developed instruments, mainly for wounds less than two centimeters, by the device clamping action under the control of the sleeve, further cut off, but there are wound closure restrictions.
In response to this idea, we decided to use another method of stitching the wound from the openings on both sides, patching it with a larger, full-layer stitch, and improving the clips that the tissue grabs.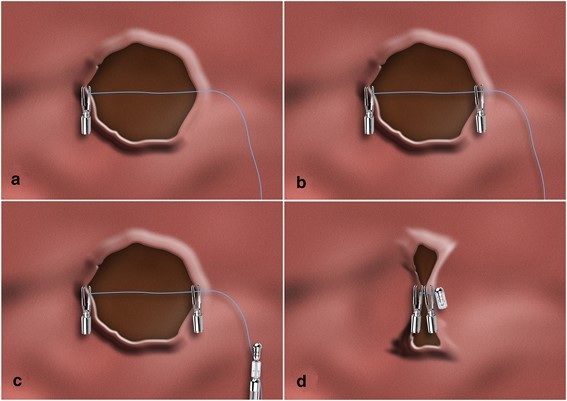 By using a graphic similar to the one on the right and performing a closing of the wound under the endoscope, the wound is further closed.