Development of various forms and commercialization for polysaccharide anti-adhesive products
Hsu-Wei Fang, Distinguished Professor

Department of Chemical Engineering and Biotechnology, National Taipei University of Technology

Expertise: Medical Engineering, Biomaterials, Tissue Engineering, Research and Application of Adipose-Derived Stem Cells

Chih-Yu Chen, Attending Physician

Department of Orthopedics, Taipei Medical University–Shuang Ho Hospital

Expertise: Traumotology, Medical Device Development, Tissue Engineering
Contents
In order to solve the clinical problems of current anti-adhesive products that are used in gynecological surgery, we will develop the basic formulation of polysaccharide anti-adhesive powder. We will also develop various anti-adhesive formulations for orthopedics and plastic surgery, due to the lack of anti-adhesive products. The goal for developing both formulations is for commercialization, we will confirm the formulas as well as verify the safety and efficacy.
Expected result
The pre-clinical testing of polysaccharide anti-adhesive powder will be completed and will be transferred to a startup company. The final formulas of various formulations will be confirmed and transferred.
Benefits to industry
The market size of anti-adhesive products in Taiwan is about 1 billion NTD. However, most of products are imported medical devices. We plan to develop made-in-Taiwan anti-adhesive products, and there will be 0.1 billion NTD output value if our products can share 10% of market. Furthermore, the international competitiveness of Taiwanese medical devices will be promoted.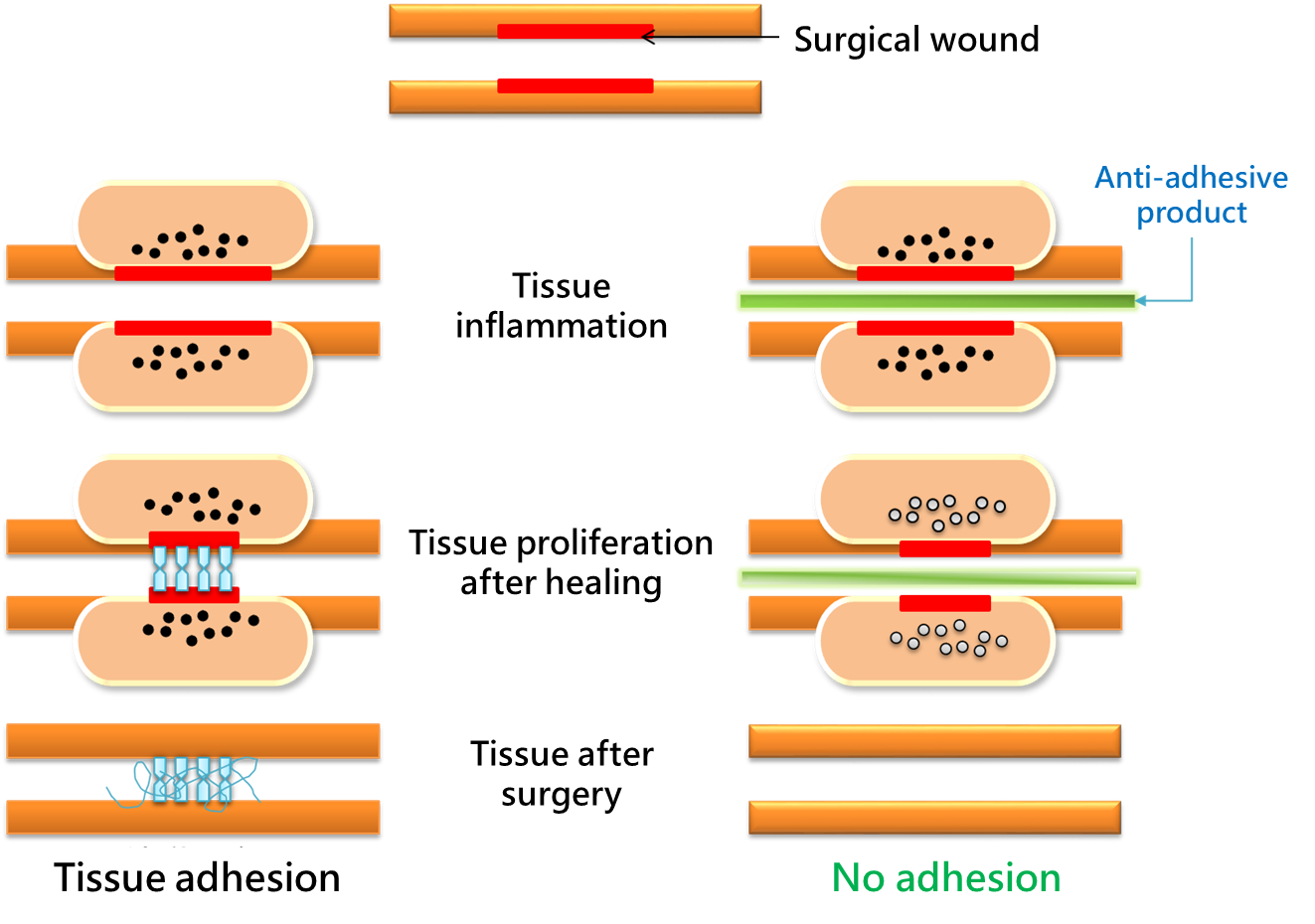 Figure 1: Anti-adhesion mechanism
Figure 2:The effect of different modified polysaccharide starch on water absorption characteristics
Figure 3:Polymer formula of polysaccharide anti-adhesive various formulation could effectively prevent cells from adhesion